Welcome To Smithfield Family Dentistry
Welcome to the website of Smithfield Family Dentistry. Our mission is to provide superior dental care at reasonable prices, and we are proud of our commitment to our patients. We strive to help you feel and look your best through quality dental care. Here, high-tech solutions are combined with the best in training and experience. Learn about all of the modern dental procedures and equipment offered here at Smithfield Family Dentistry. Including: Digital x-rays, Invisalign, crown and bridge, implants, and Invisible fillings.
We're Not Just a Kid Friendly Environment…
Walk into our office, and you'll immediately notice our family-friendly, welcoming atmosphere. Children are playing games and having fun while waiting for their appointment. Adults are at ease and relaxed in our warm and welcoming reception area. We want all of our patients to feel at home when they're at the dentist. You'll quickly see why Google rates us 5 out of 5 stars and why so many of our patients say they will come back to visit and even refer a friend!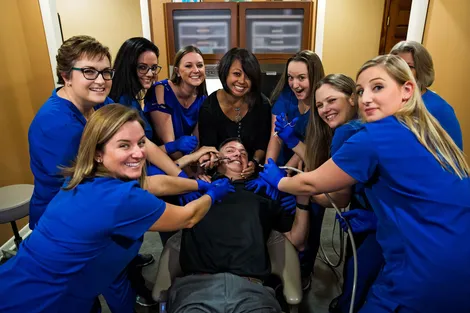 …we're Adult Friendly Too!